Jerry Seawright
Founder of The Blue Devils
1925 - 2004
---
The Blue Devils are sad inform all that our Jerry Seawright has passed away on May 16, 2004. There are no words that can describe the life changing impact that this man has had on all of us.
Jerry founded the Blue Devils Drum & Bugle Corps in 1970 and set the tone for the professionalism and excellence for the organization that has since been its trademark. He has positively influenced thousands of lives worldwide, within and outside the Drum Corps community.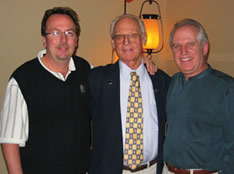 This is a sad time for the Blue Devils. Jerry will be forever loved. His spirit will live through all of us. Jerry, we will miss you more than we can ever express. Our thoughts and prayers go out to Gwen and the entire Seawright family.
Jerry recently returned to his home town Danville, IL to visit with his high school buddies: Dick Van Dyke, Bob Hackman (Gene Hackman's uncle), and Harold Brown. They had a chance to chat away, trade wisecracks, swap old stories and perform old songs.
In April, Jerry had a chance to share his thoughts with a group of staff and designers about the drum corps he founded, the Blue Devils. See pictures
DCI has a very nice article of BD alumni remembering this great man as well as an article from Michael Boo on DCI's page.
See the picture tribute page. If you would like to have pictures posted on this page, please send to the Blue Devils.
---
From people whose lives Jerry touched:
BD_FAN

I will always remember him standing along the sidelines, dressed in that navy blue blazer, waiting to applauded the many awards "his" kids earned each and every year. Plus, the many awards and accolades the baton team and wind ensemble has earned.

bdufls

I was fortunate to have spent some time with Jerry at DCI in Orlando last summer. He was the kind of person who you liked when you met him and liked him even more when you got to know him.

His dedication to kids will always inspire me.

bd5times

Even after Jerry "retired" from Drum Corps, he would show up unannounced at rehearsals and camps. Without failure, when Jerry walked into a room, a hush would come over the horn line with whispers from the unknowing "who's that?? You just knew by the way he carried himself and the respect the members had for him that he was somebody special.

socalcontra

Jerry Seawright is/was a truly class act! He typified the word "professionalism" in the drum corps activity. I haven't marched in over 20 years but I can still remember things he used to say to us while members of the organization.

Dick Van Dyke

Would like add a word of sorrow to the growing list of those who loved Jerry Seawright. In memory of a life-long friendship that began in high school in Danville Illinois. We dated, laughed and sang together. Thank God, we had wonderful reunion not two weeks before we lost him. What a world it would be if everyone gave back like Jerry.

Bob Hackman

I would like to add a few words to your column on Jerry Seawright. Jerry and I have been friends since high school. And, we have remained close friends during these many years. I did not know until his passing that he has touched so many people's lives, both in his work with the corps, his civic duties and, of course his friends. I have known, for some time, of Jerry's health downward spiral and was prepared for his passing in mind. But not in my heart. I will miss him.

Scott Johnson

Like many of us who are from this Blue Devils family, Jerry meant a lot more to me than just a director/boss/friend. Jerry was more of a second father to me. Because of this man, I am able to do a job I love, everyday of my life. Because of this man, I met my wife. Because of this man, Heaven will now get a little more organized. I will miss him more than words can say. Jerry, Thank you for my life.

Tom

It's amazing what one person can do to make the world a better place. I am sorry for you, The Blue Devils and Jerry's family, and I am immensely grateful for the good work he did for so many years. I only hope that I can make a fraction of the contribution to this world that he made in his life.

John Meehan

Jerry is the reason I am here and he meant a lot to me.

Dr. Dan - Phantom Regiment

This morning my heart sank when I heard that Jerry Seawright had passed away. I cannot think of a more influential person in our Drum and Bugle Corps activity. Not only was Jerry a positive influence on me as I began my DCI director activity in 1980, but he remained a role model for many future directors in our activity. I spent many exciting and wonderful years with Jerry and his family and I will never forget what he has done for me, the activity and for the Phantom Regiment. He never failed to offer his knowledge, expertise and help whenever asked. To this day he remained a friend and Hugh supporter of the activity and especially the Phantom Regiment. Jerry was the epitome of class in everything he did. The activity will miss this legend and I will miss my friend.

Chuck

My condolences to Jerry's family and to the entire Blue Devils organization. I met Jerry only briefly when I marched with Phantom Regiment back in 1981. He was milling around the BD souvie van after the Stockton show, and I had the opportunity to shake his hand. He was very gracious and kind. The activity has lost a true gentleman, and a giant among his peers.

Rick V. - SCV

I was shocked and saddened to hear this. If there's anything we or I can do, please let me know. We will hold the Seawright's and their extended family in our thoughts and prayers.

Allan M. - DEG Music

This is indeed very sad news for all of us here in the drum corps community. Please accept our deepest sympathies and if possible express them to all the Blue Devil family and of course Mrs. Seawright.

Mark A. - Blue Knights

Jerry is one of the people who I looked to for advice and as a mentor in my very early years. He brought to this activity perhaps the greatest organization we will every know, and as a result, has impacted the lives of thousands. I share your sense of loss and wish to extend my deepest sympathies to the Seawright family and the entire Blue Devil community.

George H - YEA!

I wish you and the Blue Devils the best that is possible, all things considered. When I came into the room, Jerry was one of the guys. He and Gail were like brothers! The quality organization he set has been continued my Mike Moxley and now you; I am sure it is the greatest compliment that can be paid. I know how much you personally cared for and respected Jerry. Best wishes from all of us at YEA! and the Cadets especially!

Jeff F - The Cavaliers

I am truly saddened to hear of Jerry's passing yesterday. I have always enjoyed his approach to the activity, as well as his dedication to his Blue Devil kids, and other corps' members. He was quite the competitor, but that never got in the way of his friendships or sense of humor. It is truly a loss for the Blue Devil family, as well as for the drum corps activity. I know he was a great admirer of yours and enjoyed telling the story of how you got involved in the Blue Devils. I still always laughed whenever I heard you (or he) tell the story of him searching for you when you were drum major to take care of some problem:"DAVID!" he would yell. Jerry will not be around to retell those stories, but at least we have some tremendous memories, as he enjoyed sharing his with all of us! Please pass my condolences along to his family.

Derrick

He will be missed by those he touched throughout the Drum Corps community, along with his family at home and in the entire Blue Devils organization.

Geoff

I was a complete stranger to Jerry when I came into the organization for only one year. Jerry instantly pulled many strings to make my stay in Concord safe and pleasant. At 43 I could have asked for a favor and Jerry would have asked"when and ware". I'll never forget his silent gifts of love to all of us.

Scott

I did not know Jerry very well, but I do remember meeting him a couple of times. His presence was large, and in the continuation of his journey, it will be larger for the world.

Tim

My regrets and sadness is shared. I marched in 1983, but I was able to talk with Jerry last August at DCI in Orlando for about 20 minutes. He was a very special man and his vision and spirit will go on forever. The Blue Devils will continue his vision for a long time!

Seth

Hi, my name is Seth, and I'm 16 from Rison, Arkansas. I just read about the death of Jerry Seawright, and I'm not sure who to write to. I never met or saw him, and and it not have been for me getting the 2002 yearbook DVD, I would probably not have known who he was. Even though, my only experience with him was via that DVD, I cannot express the way he has affected my life. The first time I ever saw drum corps was the 1999 finals on PBS. It was the Blue Devil's performance that made me put down my Star Wars toys and pick up a flag pole. Sinse then, it has been my dream to march in the Blue Devil color guard. I have met so many amazing people, and have had so many wonderful experiences though this activity. The organisation that he founded has brought be so much joy in just the last few years. I know that through the Blue Devils and other things, he has touched so many people. I'm just sorry I never got to say"thank you."

John

His contribution to the drum corps activity effected every person that has participated - no matter what corps they marched with. He started a legacy of winning and a tradition of excellence that is now your privledge to continue on to the next generation. I still remember the first time I met him . . . he was sitting next to me on the plane coming back from the DCI finals in 1979. (I was a member of the Vanguard then.)

John - Mass Brass

On behalf of all of us in Mass Brass in Boston, our deepest sympathies to the Seawrights and the entire Blue Devils Family.

John S.

I am so sorry to hear about Jerry's passing. He was an excellent man. In my time with the Blue Devils, I was inspired by his obvious love for the organization. I believe he truly loved kids and wanted to give them an opportunity to succeed in life. The Blue Devils stand as a testament to that ideal. He was a father to some and a grandfather to all. I will miss him dearly. Please convey my love to all in the Blue Devil family. Peace.

Jessie

My memories of him from when I was a performing member are fond, and I really did laugh every year at his intro saying how it was great to be there-"but hey! At my age, it's great to be anywhere!!!". It seems like Jerry honestly appreciated life. What a kind spirit and true heart he had to come every year to the after-finals brunch and express his pride in the Blue Devils.

Joanna

I am more than saddened by the news of Jerry passing. Jerry was a very good friend. He helped my kids am me more than anyone knows.

Melanie

He was a wonderful man who inspired many of us to achieve musical and personal heights that we never dreamed possible.


Pat S. - Phantom Regiment

Please accept my sympathies in the loss of Mr. Seawright. I was deeply saddened, moved to tears even. He was one of my childhood heroes. I am sure you've heard me tell of the story of his handwritten response to the fan letter I wrote as a 12 year old. I cherish that letter today. The impact that gesture made on me most surely, in some subconscious way, solidified my decision to make this activity a life's work. Having a chance to meet him a few years back and then chat occasionally since has been an honor and humbling experience. I grew up immersed in drum corps. Just as many young boys follow their baseball heroes, I knew the director's names and the main instructors of the day. Men like Bob Lendman, Pete, Bill Howard, Rick Odello, and definitely JERRY SEAWRIGHT were my inspiration. That I have been able to meet them all and even count a few as friends has been my personal most valued compensation.

Brian

Remember him catching me with a tear in my eye watching our"Bugle Corps" play for us at the 1971 Point Reyes Parade and him giving me a smile and a wink to say he knows the feeling.


Doug

I am so lost for words as I weep at the thought of never seeing a man who has meant so much to me. Last year at D.C.A. I spoke to Jerry (and Pop Ott) and had a chance to thank him for the life he has given to me, my family and everybody I've touched since my 2 years with the Blue Devil organization. Jerry, your professional leadership, extreme talent and belief in me will never be forgotten. Lola and I appreciate your friendship and will always remember a wonderful man who has built the best organization in the world

Katie

I'm so very sorry to hear that Jerry passed away. I fondly remember him bringing popsicles to us out on Mars when it was 100 degrees in the shade. He had a rich life, and it sounds like he was surrounded by a loving circle of family and friends. He was a lucky man.

Lonnie

My condolences to Jerry's family and close friends. I marched under Jerry's Seawright's leadership in 78 & 79. What an amazing time! A life changing time. I had the chance to see Uncle Jerry as we called him back then, last year and catch up with him. After all these years he still remembered me. He was an amazing man wasn't he? I am proud to have played under his leadership. Rest in peace Uncle Jerry. We will all be together again one day sharing our Drum Corp stories.

Andrea - Racine Scouts

I recall the infamous summer of the Northern Aurora bus accident.. I was tired of answering phone calls from news agencies, inquiring how our members were doing and what our future plans were. About a week after the accident, the phone raing (again) and a gentleman on the other end announced himself as Jerry Seawright, director of the Concord Blue Devils..I practically dropped the phone. He asked how our members were doing, and then asked if there was anything we needed at the moment. We had a wonderful conversation, and it finished up with"If there is anything that the Blue Devils organization can do for your corps, please do not hesitate to let me know.. we are pulling for you guys to get back on the road"- Shortly thereafter, a card appeared in my mailbox signed by the man himself, along with a personal contribution. It still amazes me to this day how tuned in he was to everyone's needs and how much he cared for the entire activity. He was everything that is good about this activity and we are all poorer for this loss. Please convey my sympathy to his family and to the Blue Devils organization.

Hector

As a member of the 1996 A Corps, I had the privilege of spending a few days with Mr. Seawright in Orlando during Championship week and I must say, he was one of the classiest individuals that I have ever met. You could just see the passion that he had for the Blue Devils when he saw our rehearsals. Seeing him, Mr. Moxley and Mr. Gibbs carry themselves with so much pride in the organization still gives me chills. If not for one man's dedication, we would not be honoring him 11 world championships later. I was fortunate enough to be a member of number 8. I think anyone who has been blessed to be a member of the greatest organization in Drum and Bugle Corps history should take the time to learn about what this man did for all of us. Thank You Mr. Seawright, If not for you, I would not have had the chance to experience the greatest summer of my life.

Keith

I was a member of the BD drumline in the 81-83 seasons and taught on the drum staff from 84-92. Even though I haven't seen much of Jerry in the last many years, I have many fond memories of him at the helm and will miss seeing him at events during the summer.

Todd

My name is Todd and I was a member of the Concord Blue Devils in 1982 as well as 1983. In 1983 I had the distinct pleasure to be the last drum major to serve under Jerry as Corp director. It is a honor that I am proud of to this day. Jerry was a wonderful man who touched the lives of so many kids as well as adults. His contribution to this activity, that so many of us have grown to love, is immeasurable and can never and will never be replaced. The Blue Devil family as well as the Drum Corp community has lost a wonderful leader, director and friend. He will truly be missed but never forgotten.


Larry Mc. - BOA

It is a sad day to watch a dear man leave our world. I go back with Jerry to the days when he was just starting the corps. I had the privilege to offer him advice about instructing staff, to see the corps in its earliest form, to provide the corps with the latest equipment, and to have Jerry introduce me to my first ever burrito from his favorite fast food vendor back in the 60's. Jerry was a truly committed man to kids and the cause of the drum corps movement. We shared many great moments and meaningful discussions. He was a transparent and trusted friend. He leaves behind a giant footprint in the sand, and I trust he is looking down with a great smile from his new home in eternity with our Lord."I will dwell in the house of the Lord forever" Psalm 23. Please pass along condolences to Gwen and all the family from the Bands of America, and our family.

Greg - Phantom Regiment

My thoughts are with you and the Blue Devils' organization at this sad time. I never met Mr. Seawright -- I only saw him at some shows -- but I know my history well enough to know what an enormous figure he is in the drum corps activity. I've known his name since I was a kid learning about drum corps and respected him from afar for the great organization he founded.

David E. - Dream

The entire Dream organization wishes to express our deepest condolences to the Seawright family. It has taken me over a day to even begin to come up with the words to express how sorrowful I am at the news of Jerry's passing. As I watch the tribute video on the site and listen to Jerry's voice again, I am taken back to those three years I marched with the Blue Devils. And I remember those brief moments when Jerry would sit the corps down on the last day of tour, just after a grueling hot rehearsal, and no matter how hot we were, or how tired we were, there wasn't a single member who wasn't captivated by his presence and the stories he told us one last time before taking the field for our final performance. Rest in peace, Mr. Seawright. You will be missed, but never forgotten.

Rob

I would like to express my condolences to the Seawright family and the entire Blue Devils family. It must be a great lost to all of you. I had the privileges to meet Jerry at annual DCI meetings back in 1987 and 1988. I will remember him as an outstanding drumcorps personality, that made great impression on me.

Hans

It was with great sadness that I heard about the passing of Jerry Seawright. I would like to extend my sincere condolences to the Seawright family, to you and the entire Blue Devils organization for this sad loss. Having had the pleasure of being introduced to Mr Seawright by you at DCI several years ago and having met him on a number of occasions at DCI Championships since, it was always easy to notice what a fine personality Mr Seawright was,... extremely dedicated, proud of his corps and very attentive. Even though our conversations were mostly brief, he always took some time to show his kind interest in the situation of drumcorps in The Netherlands and in our corps Jubal. Hearing him speak to the Blue Devils after their 2003 encore performance in Orlando and saying:"I've got four words for you..... YOU ARE WORLD CHAMPIONS!" even got a little tear to my eyes. I am proud to have captured that moment on camera. Unfortunately still shots don't come with words.

Terry

So sorry to hear about Jerry's passing. Please extend my sympathy to the entire Blue Devils family. Drum Corps has lost a true legend, friend, and hero. My memories of Jerry center mostly around the many booster club trips I took with him, and all the fun times that went along with it.

Michael - Kingsmen Alumni

Mr. Seawright was always there not only for his own corps kids but for any other corps kids. He always taught his corps class and sportsmanship and camaraderie. He went out of his way to help new members and to answer fan letters. I remember when he founded the Blue Devils he openly admitted his feelings for the look and class of the Anaheim Kingsmen. He patterned the Blue Devil uniforms to look like ours.It's funny, just last week I was reading about Mr. Seawright singing on stage with Dick Van Dyke. They graduated from Danville HS together. Another one of my childhood favorite stars has a drum corps connection, just like us performing for Bob Hope. I know it's a bit of a stretch, but still Jerry Seawright was a man of many talents. I keep thinking that Mr. Porter, Mr. Royer and Mr. Seawright have probably shared a salutation together about the good old days of California drum corps.

Charlene

I will always remember Jerry as the rock who held the corps together. No matter how stressful things got on the road, he was able to make things happen. I was fortunate to see Jerry again last summer at the BD show and was thrilled to be able to reconnect and let him know how much he meant to me during my years in drum corps. My heart goes out to his family and to his friends. He will be truly missed.

Jeff

I loved Jerry Seawright ! and he loved me, I know this to be true because he told me so. He was my friend for more than 36 years and as I sit here and read all the e-mails from all over the country from so many people with their stories of Jerry and the way he effected their life's I know it's all true, every word of it. I spoke with Jerry last Thursday May the 14th about his trip back to Danville and his cool picture with his old ( Berferd ) buddy Dick Vandyke and the rest of his neighborhood gang and he was in great spirits and we talked about going to Denver and the big Calif. tour of champions, then to D.C.A. championships, which he also loved going too. My hart is acing and I can say no more except Walk with god my old friend and ( who-raww ) Jerry Seawright U.S.M.C.

Jeffrey

Truly a sad day not only for Drum Corp. but for humanity as well. I never met Jerry personally, but like many others he touched my life by giving me the absolute privilege to march on football fields across the United States and parts of Canada with my extended family. The memories I have are because of him and the lessons learned stay with me today. His presence here on earth will have definite impact for generations to come. I will always be in his debt.

Cesar

I too, in 1989 remember that man walking into a rehearsal at College Park and wondering who he was. When I found out it was Jerry and he spoke with us after rehearsal I realized how special this man was. I will never forget his booming voice and the gleam in his eye. As the years passed and you could always find him sneaking up on a rehearsal or show, and one thing was evident. We were his kids. Every one of us. There was always that smile and proud look that he showed whenever we performed. His dream was a reality and bigger than he could ever imagine. No matter when in time I ran into Jerry he always knew who I was and he always had a wink to say"you are special, you are a Blue Devil." Perhaps the best memory I have of Jerry is when I drove the Cheeseball with Marcus in '96 I believe. We were in the middle of nowhere behind the corps because of course we had stayed behind broken down. Well, we stopped at a 76 truck stop to refuel but they wouldn't accept our credit card since it was a truck stop, and our cash was very low. We were sure we were stuck for at least another day. Suddenly we hear a voice beside us say, 'fuel these guys up I'll pay for it on my card'..there was Jerry, coming out of nowhere like a guardian angel. What were the odds? I will never forget either his speeches to the corps before finals, particularly 1990 in Buffalo. He said words that made us feel so proud to be wearing the uniform, and brought tears to many eyes because of his genuine love for his corps, and for us. He would also get a little misty-eyed because he was simply PROUD of us. To every Devil who has marched, he provided something different. We all know what it was deep inside individually. It was those things that brought us here and kept us here. He will never be forgotten and I think it's safe to say that whenever any of us donned the Blue Devil uniform, Jerry already had his on. I believe that under that navy jacket he always had his uniform on. That is the reason he had that twinkle in his eye that we will not soon forget. Rest in peace Jerry and THANK YOU for giving all your kids that chance to live a dream and move others with music, and for letting us learn life's lessons through being part of the best drum corps in the world.

Cynthia

Jerry Seawright, such a gentleman, such a class act. I am so saddened to hear of his passing. He truly was one of the finest persons on the face of the earth. I marched in the Blue Devils in 1980 and 1981 and was privileged to have been in his organization. Prior to marching in the Blue Devils, I marched for eight years in other, smaller, corps. Jerry was one of those persons that everyone in drum corps knew and respected because we knew he had founded the classiest drum corps in the nation and was a class act himself. When I got into the corps, I got to see firsthand what a great man he was. If a job needed to be done, he would be right there doing it. He never thought of himself above anyone else. He knew all the members by name when they were marching. After aging out, he remembered each and every one of us and acknowledged us when we would show up at shows and finals. I spent a lot of time around the corps after Jerry retired and two words could put the corps into a special mode. Those words?"Jerry's here."

Jessica

Being involved with the Blue Devils Drum and Bugle Corps was one of the most amazing experiences of my life. I owe this to Jerry Seawright. I am a strong believer in celebrating one's life and remembering them in death... I celebrate Jerry Seawright's life! I celebrate his vision for the Blue Devils organization. I celebrate his vivacious personality. I celebrate the times he made me laugh at awards banquets, sitting in the hall or in the wooden steps of Mars. I celebrate his dedication. I celebrate the outlet he created for artistic excellence! I celebrate his contribution to my life. I pray that he will always be remembered, especially by the new generation of Blue Devils. Because of incredible individuals like Jerry, we are BLUE DEVILS! My blessings to the Seawright family.

Brent

It's hard to fathom Jerry's passing. For someone as young as I (all of 28 now), Jerry even took the time to talk and acknowledge me. I surely doubt if presented with my name he could have remembered me, yet on several of the corps BBQ's at the park, (2 or 3), he, along with other volunteers... and myself, aiding in cleaning up only one of many miscellaneous messes. We spoke about changes in drum corps over the years, and all the positive things that were happening at the time. Even by my age year in 1997, Jerry held such a strong love for the activity and our corps that few others could have matched his spirit. He was definitely there for the kids.

Ichiro

When I joined the A Corps in 1987, Jerry was already not a Director. But he oftenly visited us to camps, competitions, and rehearsals. Every time he came to visit us, he came to me and said the same question...."So, YOU came all over from Japan to join the Devils?"...Nowdays you see many Japanese members around. But in 1987 you could not find Japanese members anywhere. He seemed to be so proud that the Corps he created became so international. I really loved to see his smile when he talked to me. Jerry made all of us where we stand today. Without Jerry, I couldn't experience wearing that blue uniform and receive the grand applause from 50,000 audience. Without Jerry, I couldn't continue my music career today. Without Jerry, I couldn't meet my wife. Without Jerry, I couldn't have my lovely son in the world. I love the way I live today. And he was a big part to make me what I am today. I really miss you, Jerry. Thank you for your great influence. May his soul rest in blessed peace.

Frank

Jerry was unquestionably the best boss I ever had. The day we met, I thanked him for the opportunity he had given me to work with his corps. I was a new guy on a staff that included extraordinary talents like Rick Odello, Mel Stratton, Wayne Downey, Shirley Stratton and Mike Moxley. "How does a person go about managing a staff like that?", I asked. Jerry smiled and said, "Frank, I just hire the best people I can find, and let them do their jobs. And we're darn lucky to have you." He made me feel like a million bucks. A few weeks later, he got me a job with a little start-up record company, Concord Jazz. Suddenly I'm in a recording studio with Dave Brubeck. Jerry handed me a career. I'd have charged up San Juan Hill for that man.

Leonel

My fondest memory of Jerry Seawright was in finals last year in Orlando. I had never engaged in a conversation with him, nor ever approached him, for this man was legendary, and I was just another age out from the Blue Devils. When the Blue Devils pulled up to their parking spot outside the Citrus Bowl, we lined up, and the person to watch us off was nobody other than Jerry Seawright. We marched towards the gate,,,, I stopped,,,, I had too,,,, I had to reach out to him and shake his hand, looked him dead in the eyes and said"It's my most humble honor to shake your hand." Hearing of his passing away only makes me so lucky. So lucky that I was one of the fortunate ones that got to be part of the creation he dreamed of. So lucky that he got to see me perform in that uniform. So lucky to know that such a man like him was proud of me because of my accomplishments with the 2003 Blue Devils.

Jack B. - Velvet Knights

My condolences to Gwen, Jerry's family and the Blue Devils Organization. I'm very sad to hear about the loss of a very good friend and will miss all the great times we've shared through the years. I could remember the good and bad times Jerry and I went through while touring with our respective drum corps and will truly miss sharing all our memories (stories) accomplished within the Drum Corps community.

Glenda Hackman

I have included several pictures that were taken at our home during Jerry's last visit to Danville for the reunion with the "Burfords" I was first introduced to Gwen and Jerry many years ago through my in-laws (and best friends of the Seawrights) Bob and Helen Hackman. Jerry was one of those guys that you couldn't help but like. One of the pictures is of us all playing the card game "kings" which he and Gwen taught to my son, Nicklas, several years ago while they were visiting Bob and Helen in Florida. It quickly turned into a tradition that had to take place whenever we were together. Nicklas was busy the week before Seawrights gathering up nickels anticipating the up coming game of kings that he knew would take place during their visit. I especially appreciated the way Gwen and Jerry always treated Nicklas - to him he wasn't just a bothersome kid - he was a person to be respected that just happened to be a child. I imagine that is how Jerry made all of his kids in the corps feel. One of the other pictures is of the Seawrights and the Hackmans just clowning around by posing with some fake joke-type teeth and by removing some of their false teeth - just a typical day when the Hackmans and the Seawrights got together. I am truly saddened by his passing. I was hoping that the recent reunion would spur a move back to Danville and many more games of "kings". With much love.

Joanie "MA" Doebler

I worked closely with Jerry for 7 years, beginning when my oldest daughter joined the corps in late 74. The corps had handmade bright blue satin shirts. They were replaced in 76 by the marine style blue jackets and the corps began its record setting history. (As uniform chairman, one of the members that I fit for a new uniform was a skinny little kid named Dave Gibbs.) It didn't take long to figure out that there would not have been a Blue Devil A corps if it were not for Jerry. He gave his "all"......money, time, heart and health. We had 4 twenty five year old buses for the corps, an old bob tail truck lovingly referred to as the "Blue Max" for uniforms and instruments. There was a motor home for the staff of 8-10. When we hit the road, there was Jerry in his car leading the pack with a smile on his face. We hardly looked like the beginning of a Dynasty in Blue............but he made it happen. He made us laugh......he made us cry.But at this time he has made us all very sad. If it were not for you hundreds of kids would not have had the opportunity to wear the Blue and be the best that they could be............including my own two daughters. Thanks a lot Jerry. We will never forget you.

Andrew

My name I Andrew, I live in Southern California now but was born and raised in England. I 1992 I join a marching band and subsequently heard of Drum Corp. The ten years I was a marching have shaped my life and mad me who I am today. I have always been a fan of BD and strived to be like them when I was marching in England. Although I've never seen BD, I have bought the dvds for the past 3 years and have enjoyed every minute. My deepest sympathies go out to Jerry's family and all BD members and staff

Donna

When I first heard the news of Jerry's passing I was quite sad. Both the BD organization and the drum corps community will miss him greatly. Jerry's legacy will continue to live on through the music that future BD corps members will bring. Jerry was a wonderful man and will be missed by all. He touched so many lives and warmed all of our hearts. It was a pleasure to be a part of such a wonderful organization and most importantly, to have the pleasure of knowing Jerry on a personal level. My heart goes out to Jerry's family & the BD organization.

Neal

I have so many fond memories of Mr. Jerry Seawright during my summer with the Blue Devils in 1983. I'll never forget the first time I met him and we sat down in the Bingo Hall and chatted. I suspect it was his way of getting to know who I was. Here was the founder of the Blue Devils. One of the most important men in DCI. His stature though did not keep him from being, and always so, a humble, affable, and dear gentleman. And how fortunate, I was to get to know who he was through his presence with the corps during tour that summer. The most memorable time I had with Jerry would have been in Stillwater, Minnesota. Prior to going to Minnesota we had been in Nebraska. A good many of the corps members had come down with some nasty virus. Decorum prevents me from going into detail about how sick we were. On the bus ride from Nebraska to Minnesota, I slept on the floor of the bus. When we arrived I doubt I had eaten more than some crackers and soda in the past day or so. While unloading our "stuff," I happened upon Jerry. He asked me if I wanted to go and pick up the mail as we had a mail stop in Stillwater. I said, "sure." Much to my delight Jerry stopped off at a local pub and I got to sit down and have the most delightful bowl of cheddar cheese and beer soup, and other food items as well. For most folks, I guess it was just a bowl of soup. For me, it was a welcome return to the world of being able to eat, and what great soup it was. Even better was just getting to sit and share time with Jerry. I wish though, in retrospect, I had been able to ask him what that Dr. Peeper soda was that he always drank at the shows. Time is such a valuable commodity during tour. It seems so scarce. But Jerry always found time to make all of us feel welcomed and cared for. And time allowed Jerry to share himself with so many of us. So many of us were blessed that the richness of his character and the time he shared with us made us the better for having known him. To his family I offer my deepest sympathy. His passing is a great loss for so, so many who had the delight to know him. I am so grateful I was one of those many! God bless!

Sadao A. Yokota- President, Dynasty Japan Corp

Please accept my deep condolences. I remember I spoke with him friendly at the banquet of award ceremony last December. He is such a great person not only for the Blue Devils but all drum corps around the world. I am sure his love and passion has been carried on you all as great talents, promising the peaceful sleep of his great soul. Your friend from Japan.

Alan

I wanted to send my deepest condolences to the entire BD family. I know the loss is huge. I just wanted to say that even though I was only a driver, Blue Devils was a huge part of my life and I was so honored to have been a part of it for those three precious summers. Jerry's love will always shine on the Blue Devils. If there is ever anything I can do for the Blue Devils, please don't hesitate. Again, my condolences.

Barry

My condolences. My prayers are with you during this difficult time. May the Lord comfort his family and those in the Blue Devil family.

Ted

I knew Jerry from a little different perspective than did most. Having dated one of his daughters for a few years gave me the opportunity to know him and his family in a way that only a person in that position could know. One of my fondest memories from his home was when he took out of a drawer to show me some sketches of uniforms he was doodling with. These later turned out to become the models for the new 1976 uniforms. That was the year that the Corps won their first DCI title. Gwen always treated me like I was family, and I know Jerry did his best to put up with me. I never really knew what he thought of me personally, and I don't know if he really ever knew what I thought of him. I wish I had made sure he did. Besides my own father, Jerry was probably one of the single biggest influences on my life. I have had nothing but complete respect and total admiration of him. From the time I joined the A Corps in 1972, he made me feel that I could be anything I wanted to be, and that we collectively as a Corps were destined for greatness. It was his drive and motivation that continually pushed us, accepting nothing less than what we were totally capable of, for we all were his kids. In 1974 Jerry arranged for me to take a"temporary" job at a manufacturing plant in Concord in order to earn tour money. Well, 30 years later I still work for this company, and loving it. I even met my wife of 26 years there. Last year we decided to fly to Orlando for DCI finals. We met up with Jerry there and I had the opportunity to introduce my two kids to this man who which they have no idea how much means to the very existence of our family, and the family of Drum Corps. How important the decision to make that trip turned out to be. I am a better person, and this is a better world because of him. We will all miss you Jerry.

John

I was surprised to read stories that reflected my own almost exactly. But then ,its not in the least bit surprising as Jerry Seawright had that way of making everyone feel special and important to what was going on. Where did he find the time? Like many others I fell under the spell of the Blue Devils at a young age. I wrote to Jerry just to tell him that way over in Scotland there was a group of guys who were nuts about the corps and would exchange pictures and more importantly tapes going way back into the seventies (some of the best!). One day I came home from school, not long after I had sent the letter, and there was a letter with the old BD logo on it. Well I was so overwhelmed that I took care not to crease it as I picked it off the floor. Inside was a personal letter from Jerry and a BD pin. I was around 13. The letters continued steadily and three years later I was on a plane to begin an experience that will stay with me forever. 5 years with the best corps and instructors in the world. Of course this changed my life, but really it was Jerry that changed it. He took the time to listen to me and encourage me to make it happen. Jerry seemed always to pop up at key moments during my BD experience. And like many others have said, a kind of hush came around followed by big hellos and catching up. If we were fortunate that night, Jerry would say a few words to us before we went on. He always spoke from the heart and gave us a real lift. He was always so proud of the corps and that meant a lot to me. He loved it! I remember driving around in his car and he had the digital devils disc in his car. He told me he took it to his friends hifi store and got the guy to put the disc on the biggest stereo at the loudest volume. I wasn't there but the grin he had when told me the story was priceless! After my first year, Jerry invited me to stay at his house for around two weeks. It was great to spend time with him and Gwen at their home. I remember he took me for a real nice dinner with some old BD alumni. And I was kind of star struck. (You would understand if you saw my bedroom wall in Scotland when I was younger). He even took me to the airport. My flight was at a real early morning time and he offered to stay around and keep me company through until I had to check in. Four years later at the breakfast banquet, the day after nat's, he was there again and got to meet my family. Just before I left he took me aside and told me to approach my life as I approached the corps. Ive always tried to do that and when I have difficulties this seems to work. It was just over a month ago when I last heard from him and his mail was full of the same warmth and encouragement his first letter had been almost twenty years ago. It's no wonder to me now why the Blue Devils exist and why they have always seemed to me, to be in another league from the rest. Just like Jerry Seawright.

Cathy

I just wanted to send a note to say how sorry I am about Jerry. I really wish that I could be there for the Memorial service. Please convey my condolences to Mrs. Seawright and the rest of the family. Jerry was a great person, and will truly be missed by all.

Jim

While attending the University of Illinois at Urbana, the first HS drumline I ever taught was in Danville IL during the 1980-81 seasons. In late Fall '81 we took the line to the first indoor "Spartan Marching Percussion Festival" in the Chicago area, which had enough HS and college lines competing that a prelims and finals was in order.

Danville's line was understandably nervous at this, their first-ever such contest, and so prior to their going on for Prelims, I pulled out a letter specifically written to them for this event, strongly encouraging them to do their very best, speaking of teamwork and wishing them the best of luck in the preliminary contest they'd shortly be performing at.

After reading it, I quickly told them the writer knew a lot about teamwork and marching percussion. I then showed them the letter, on corps stationery [they all knew about corps to one degree or another], written to them by Blue Devil director Jerry Seawright... an alumnus of Danville High!

Jerry's letter must have helped, for Danville made the nighttime show.

Coincidentally, Langley is also the home of Bill Martin who founded "The Martinettes" drum, bell & baton corps... which eventually became the Blue Devils.

Robin

Many moons ago i arrived in california a young gal with a love of drum corps and 2 left feet and 10 thumbs...but i loved the BD with all my heart and soul and Jerry welcomed me into the BD family as if i was an solo horn player. I volunteered down at the BD hall and saved money to travel to all the shows. At one point life was hard and Jerry kindly invited me to stay with his family...as i was family too. when i think back on it how, i am so blown away by his continued act of kindness! eventually i met and married an age-out and we both continued our love and support of BD. And, finally we had our very own C-corps member! A horn player! Our son was so very small on that field, but he was all we could see when we watched the shows! And, the proudest moment i have ever spent in all 20 years of being the biggest BD fan, was at family night, 2002...when all the A and B corps took the little guys, C corps, and they played together...Jerry walked right up to me and greeted me like time hadn't passed...and then turned and he was so blown away by the kids! He kept smiling and bragging and laughing and enjoying! He loved those kids! he was the definition of sheer joy watching those awesome performers play together. If a man could dance in place with delight beyond delight, that is how Jerry was that night. I have seen him watch and love the shows...but now he was watching MY SON. I was there, with that great man, watching my son sing to the gods with those horns...and that was one of the most incredible sights and events i will ever, ever experience...and it was the last time i saw Jerry. Thank you a million Jerry, you gave me a million plus reasons to love life. You truly are a hero to many.