The country of Malaysia, in Southeast Asia, is located partly on a peninsula of the Asian mainland and partly on the northern third of the island of Borneo. West (peninsular) Malaysia shares a border with Thailand, is connected by a causeway and a bridge (the 'second link') to the island state of Singapore, and has coastlines on the South China Sea and the Straits of Malacca. East Malaysia (Borneo) shares borders with Brunei and Indonesia.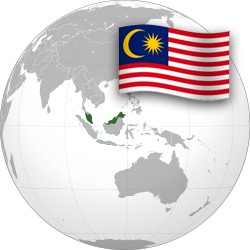 Malaysia has its origins in the Malay Kingdoms present in the area which, from the 18th century, became subject to the British Empire. The first British territories were known as the Straits Settlements, with the other states forming protectorates. The states on Peninsular Malaysia, then known as Malaya, was first unified as the Malayan Union in 1946. Malaya was restructured as the Federation of Malaya in 1948, and achieved independence on 31 August 1957. Malaya united with Sabah, Sarawak, and Singapore on 16 September 1963, with 'si' being added to give the new country the name Malaysia. However, less than two years later in 1965, Singapore was expelled from the federation. Since independence, Malaysia has had one of the best economic records in Asia, with GDP growing an average 6.5% for almost 50 years. The economy has traditionally been fueled by its natural resources, but is expanding in the sectors of science, tourism, commerce and medical tourism.
Malaysia is a mix of the modern world and a developing nation. With its investment in the high technology industries and moderate oil wealth, it has become a rich nation in Southeast Asia. Malaysia, for most visitors, presents a happy mix: there is high-tech infrastructure and things generally work well and more or less on schedule, but prices remain more reasonable than, say, Singapore.