"Freedom: Dada, Dada, Dada, crying open the constricted pains, swallowing the contrast and all the contradictions, the grotesqueries and the illogicalities of life."
(Tristan Tzara)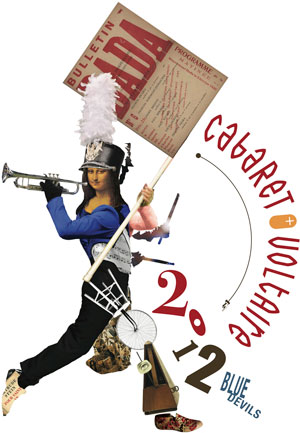 Born in the heart of Europe in the midst of WW1, the Dada movement displayed a raucous skepticism about accepted values. Its embrace of new artistic materials and methods created an abiding legacy for the century to come, with strategies that included collage, montage, assemblage, ready-mades, chance, performance, and media pranks. Radical then, they are foundational today, so much so that Dada may have had the greatest influence on contemporary art of any avant-garde movement.
The first public gathering of Dada came to life within a small cafe turned cabaret named to pay homage to the great satirist of Enlightenment mores and politics -- Voltaire. The cabaret would soon become a theatrical event that involved radical innovation-its definition of a mode of artistic practice in which art could elicit audience response, be it shock or conspiratorial amusement.
The 2012 Blue Devils welcome you to the challenging, whimsical, thought-provoking world of Cabaret Voltaire. Where the presentation could reveal a militarized duty-bound masculinity contrasted with a complete disregard for the rules. Instead of a carefully orchestrated structure, evening performances offered improvisation, the deliberate juxtaposition of uncoordinated actions, and a delight in the chaotic. The Cabaret Voltaire launched an age of questioning that made its international way into a variety of artistic forms from poetry and theatre to dance and sculpture.
"I wish to blur the firm boundaries which we self-certain people tend
to delineate around all we can achieve."
(Hannah Hoch)
The search for the Dada parallels in today?s world fuels the 2012 Blue Devils production with a range of music from the influential Satie to the iconic exploration of Mingus. Dada lives through an exciting circle of musical and visual questions and answers. How do the concepts of collage and ready-made objects find their way into the musical soundscape? Where does the spoken word dance a manifesto of cinematic cycles? Disruptive by design and irreverently iconoclastic, the Blue Devils travel the US for this exciting showcase of drum corps most talented performers.
TRISTAN WRITES A MANIFESTO
"Harmonielehre" John Adams
"Morrison Mania" James Horner
"The Children's Hour of Dream" Charles Mingus
"Symphonies: V" Andre Souris
MARCEL PAINTS A MOUSTACHE
"Bird & Bela in B Flat" Don Sebesky
HANNAH MAKES A COLLAGE
"Gymnopedies" Erik Satie
MAN RAY MAKES A METRONOME
"Ballet Mecanique" George Antheil
GERTRUDE WRITES A PLAY
"Peppy and George" Ludovic Bource (from The Artist)
"Dr. Bones" Steve Perry
"New Arrival" Danny Elfman (from Corpse Bride)
"Tevot" Thomas Ades
"Rhapsody in Blue" George Gershwin
---
Tristan Writes a Manifesto

"Harmonielehre"

John Adams

"Morrison Mania"

James Horner

"The Children's Hour of Dream"

Charles Mingus

"Symphonies: V"

Andre Souris

Marcel Paints a Moustache

"Bird & Bela in B Flat"

Don Sebesky

Hannah Makes a Collage

Man Ray Makes a Metronome

"Ballet Mecanique"

George Antheil

Gertrude Writes a Play

"Peppy and George (from The Artist)"

Ludovic Bource

"New Arrival (from Corpse Bride)"

Danny Elfman

"Rhapsody in Blue"

George Gershwin