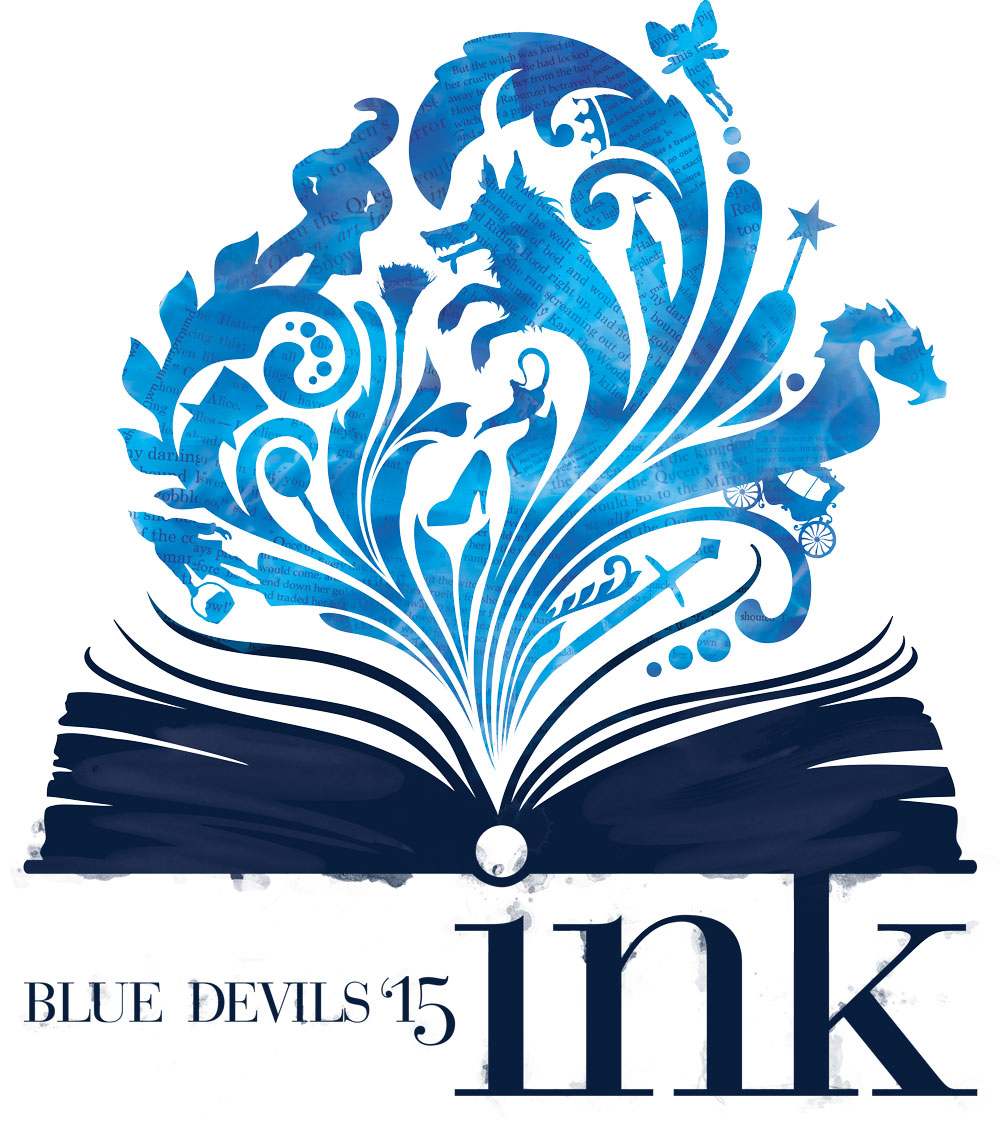 The spark of a thought ignites the imagination. It travels the interstate of synapses from the brain down the arm and into the hand. The hand grasps the pen and dips it in the liquid and moves from well to paper. Here the liquid drops onto the waiting space. The droplet begins to take the shape of a single letter. The letter is joined by another and another and begins to form a word. The word is linked and connected to more words. A sentence is born. More sentences emerge and join together. They become paragraph after paragraph. A story begins to dance on the pages.
"When I examine myself and my methods of thought, I come to the conclusion that the gift of fantasy has meant more to me than any talent for abstract, positive thinking."
– Albert Einstein
From the elegant quill to the rhythmic cadence of the typewriter, characters leap from the pages of beloved stories in the 2015 Blue Devils production of Ink.
Ink travels from paper to pattern and brings music and magic into an exhilarating existence of drum and bugle corps passion. From the legendary Stephen Sondheim to Grammy award winner Gordon Goodwin, the Blue Devils traverse the musical terrain of endless possibilities. Through graceful composition the palate of discovery brings choreography and form into stunning realism and design becomes a living, breathing experience.
Ink brings together the talents and skills of unique performers from around the world to continue the award winning tradition of DCI's most honored drum and bugle corps. The 2015 Blue Devils travel the United States with their unique brand of excellence and imagination as Ink composes an exciting new story of music and motion.
Chapters Include
Dark Forest

(Dave Glyde)

Sweeney Todd

(Stephen Sondheim)

The Giant Attack

(Stephen Sondheim)

The Mad Hatter's Tea Party

(Gordon Goodwin)

I Like You

(GOT7)

Children Will Listen

(Stephen Sondheim)

Last Midnight

(Stephen Sondheim)
---
Chapter 1

"Sweeney Todd"

Stephen Sondheim

Chapter 2

"The Giant Attack"

Stephen Sondheim

Chapter 3

"The Mad Hatter's Tea Party"

Gordon Goodwin

Chapter 4

Chapter 5

"Children Will Listen"

Stephen Sondheim

Chapter 6

"Last Midnight"

Stephen Sondheim
<!– /.col –>

<!– /.row –>

<!– /.container –>